4x TV/video ad lift.

AI Creative Strategy
Cut risk & save millions with AI creative strategy informed by 10 Million+ TV/video outcomes. Not happy? Don't pay.
See Results
Results
$2.4M cost cut per $10M spend. 4.4x Brand Lift. $60B MCap.


Blind study on $60B brand spending $2B/yr on marketing.
VQ predictions gave 4.4x higher brand lift & ROI (p-val 0.03).
$2.4M savings per $10M spent on TV/video media.
See more results
More Results…
#1 Best Video for Over 1 Year. 1.4M Subscriber Channel.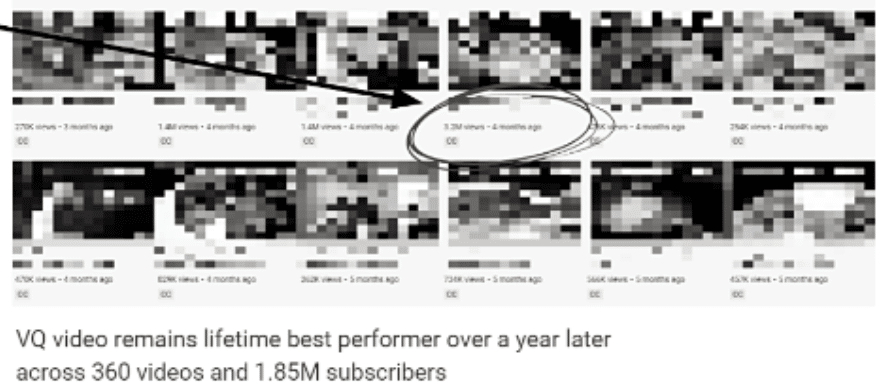 1.4 Million subscriber YouTube channel.
VQ output a concept; the channel built it.
#1 most-viewed video for over a year across 360 videos.
More Data
Additional Data
VQ Catapults Influencer
After building a VQ video concept, beyond the video becoming #1, the channel's views & subscribers took off.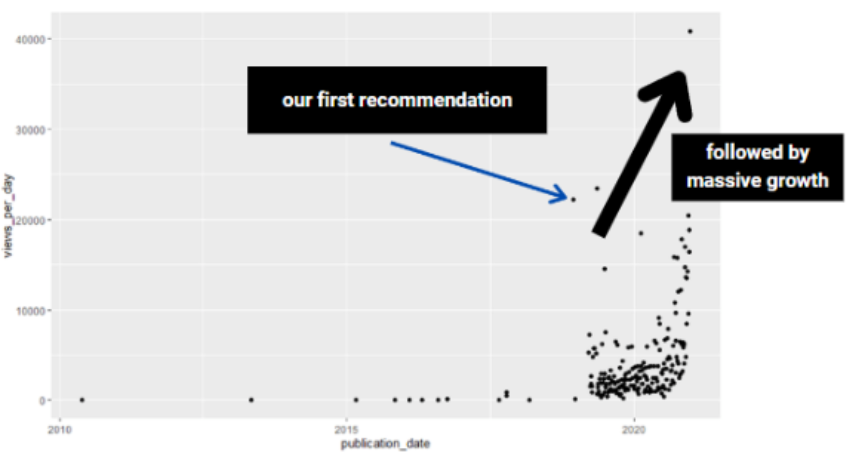 Some More Data
Additional Data
Clear Performance Breakout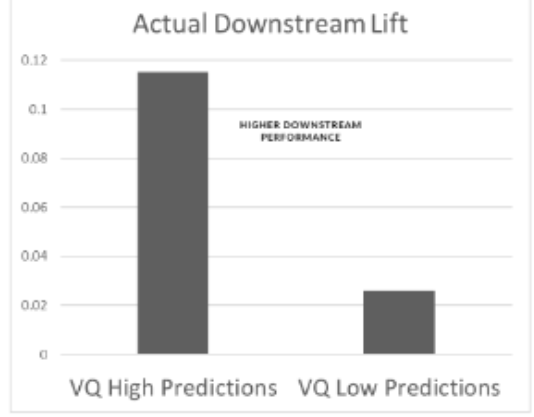 VQ predicted the probability that TV/video content would do well or not for the client. Media was run. Performance breakout between our high/low predictions emerged.
VQ made pre-media predictions
Brand ran media on video
VQ high predictions had higher downstream actuals.
Who Is This For?
Are we a fit?
Who Is This For?
Here are 3 criteria we look for when evaluating fit.
At least $10M/yr media
Brands must spend at least $10 Million per year on TV/video media.
Clear Objectives
Goals for video marketing must be clear and measurable.
Competitor Video
At least 2 competitors must be doing video marketing.
Who Is This NOT For
Not Measuring Video
Brands we work with must have a clear video goal.
Financial & Legal Services
Financial advisories, legal services, and telecom.
Health Hazardous
Hazardous products and non-FDA regulated medical.
Hate Advocacy
We don't work with brands engaged in hate advocacy.
How it works
4 Steps To Avoid Anemic Video Before Spending A Penny
It's not just our data on over 10 million TV & video outcomes that does it. We have 4 patents pending on our statistical GPT process to measurably avoid ineffective TV/video ad content.
The Money-Back Guarantee
Find Your Exact Video Audience
Nearly every brand and agency skips this critical step. We start by mining very specific data to precisely detect your video target. We need to know this – it's table stakes.
Monitor Their Tune In Behavior
We use a very specific patent-pending process to then find exactly what video content is consumed by this audience and engages with their pain points. Data is king.
Measure Lift Paid For By Others
Just because your audience watches something doesn't mean it will work for your goals. Using a very specific process, we detect the ROI achieved by competitors on video consumed by your audience.
Data-Informed Guidance
We summarize patterns into clear, data-supported insights of video content to avoid (known ineffective) and areas of opportunity. These insights enhance creative briefs and more
Not Happy? You Don't Pay.
It's probably crystal clear to you now how we can have such a NO Brainer Offer for brands doing TV or video.
We have no incentive to work with you if we're not 100% certain we can help you.
See The Founder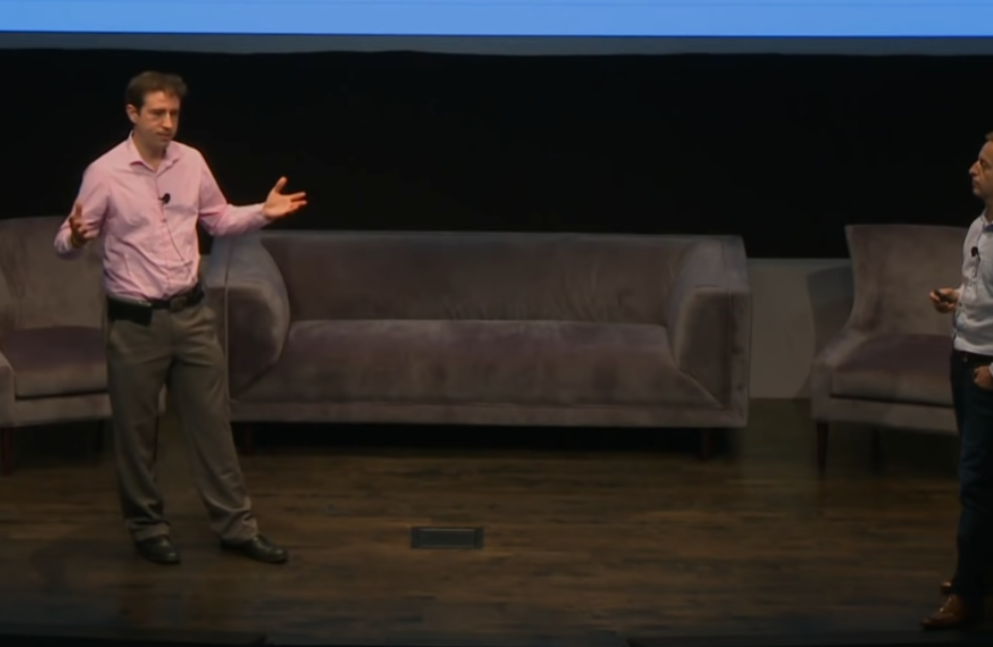 See Tim speak with CEO of iSpot
I'm Tim D'Auria, the Founder of Videoquant.
We've mastered getting TV & Video results using AI to avoid ineffective creative strategies. I'm an ex-Bloomberg Wall Street Quant, ex-Head of TV Data Science for a $2.6B MCap, and can be seen in talks with the C-Suite of CBS, iSpot, etc.
Let's Meet
Founder with Industry Leaders
If that's all you need to hear, go ahead and click the "Schedule Demo" button.
Schedule Demo
Now, if you want to know WHY this works so well…
Stick with me and I'll share with you four key differentiators of
Why we succeed where others consistently fail.
Differentiator #1
We use massive REAL-WORLD video performance data.
Whether you want 400% ROI or 20 points of brand lift, data on how video ads have performed in the real-world is key.
In contrast, surveys, panels, and focus groups use small samples of artificial data not from a real-world setting.
This is why surveys, focus groups, and panels rarely anticipate real-world results. The book "Blink" reaffirms why.
Real-world data equals more accurate results. Our data has real-world performance of over 10.2 Million video assets.
Differentiator #2
Insights arrive before you invest a penny on video.
Video is expensive to produce and test. Unlike other marketing (SEM/SEO) where thousands of tests can be ran in no time for near-zero cost, video takes work.
With video, you need to have the concept, a plan, you need to write the script, editing, casting, location scouting,…
…camera equipment, the sound, the lighting, crews, insurance, compliance, etc. And this is just pre-media.
(Higher cost per test) x (more tests needed) =
budget is blown before you even get started
We solve this problem using other people's money to identify what works before you make large upfront investments.
Differentiator #3
We focus on what drives 80% of all ROI & lift- the creative.
While nearly all industry tools outside of surveys are focused on video media (what inventory to buy when and at what price), data shows that ~80% of TV & video results are caused by video content.
Video content is like a racehorse and media the jockey. Your media can't win with a three-legged horse.
Video content requires oversized data science attention to win. And that's what we do uniquely from the market.
Differentiator #4
Our World-Class Team
It includes the co-founder of a $2.6B MCap. Our team has spent over a billion USD on TV & video across our careers.
Founder Tim is an ex-Wall Street Quant and ex-Head of TV Data Science (>$110M/yr). You've seen his work.
Tripadvisor's ex-CEO & co-founder.
Vistaprint / Drizly / GrubHub ex-Head of Global TV & Video